Details

Published: 03 November 2017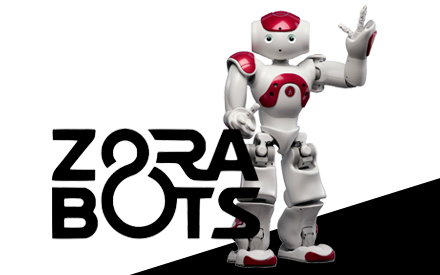 With the exit of Robosoft, the consortium was in part left without an important aspect of our exploitation strategy – the manufacturer of the robotic platforms. Collaboration is still possible with Kompai Robotics. To take control of the scenario and to not risk losing momentum, opportunities and networks established by the project, R2M in parallel to the project activities invested in and committed to a distributorship with Zora Robotics for the sale, distribution and support of Zorabots in Italy. Since R2M is leading the exploitation activities of the MARIO project this partnership will create an additional exploitation route for some of the MARIO foreground such as the MARIO apps in Italy.
Zora Robotics has developed the world leading application development framework and user interface on top of Softbank's Nao and Pepper platforms. More than 20,000 people use the more than 70 applications to make their robots useful and fun. With Zora, you don't need an ICT department and you don't need to be a robotics expert to expand the Softbank's robotic systems functionalities. It is like having windows installed on a PC (or other operating system). Without it – the PC can be hard to use for non-computer experts. With it, you can use the PC to change the world. With Zorabots you get the basic NAO system, the application development framework and a library of 70+ applications to work out, be productive, have fun etc. Zorabots have been successfully deployed as assistant to retail, hospitality, healthcare and elder care.
The Zorabots distributorship applies primarily to the Nao system where there is complete freedom to operate (integrated systems from Zora sold to Italian B2B and/or educational markets). It can also apply to the Pepper system but the hardware will have to be purchased from another distributor and then the Zora software solution mounted on top of that. The distributorship is for an initial two year period with annual sales targets of 50 systems.
This exploitation channel is a multi-phase process as it applies to Mario foreground. First of all the partnership of R2M and Zora means that R2M will need to understand how and what to integrate onto the Nao and Pepper systems. Then, R2M will need to conduct this integration. Then, we can start introducing (pilot or sale) Mario foreground into the Nao and Pepper (Zora) solutions and if successful in Italy, we can offer them for sale back higher throughout the Zora worldwide distribution partners.