Details

Published: 02 November 2017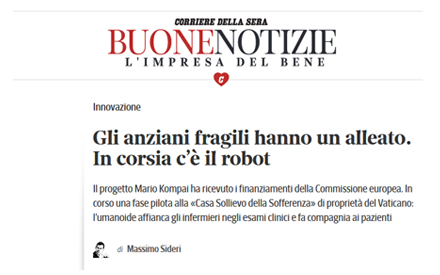 On September 19th Mario was featured on the first issue of "Le Buone Notizie" ("The Good News"), the new weekly insert of Corriere della Sera about social issues.
Corriere della Sera is the largest circulation newspaper in Italy, with 250,000 copies being sold and around 3 million readers. The full page article was written by Massimo Sideri, columnist of Corriere and newly appointed director of Corriere Innovazione, i.e. the weekly Corriere's insert on technology: it covers all relevant aspects of Mario, focusing on the consortium composition and the relevance of assistive robots for the interaction with elderly patients with dementia in hospitals and home care settings. Following the article, IRCCS Casa Sollievo della Sofferenza and its Mario robot were featured on "La Vita in Diretta" (the afternoon talk show on RAI 1, the main Italian TV channel).
Here is the link to the Corriere article.